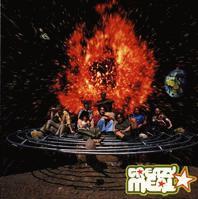 GREAZY MEAL's debut CD: Visualize World Greaze (limited availability -- act now!).
3/27/06: This album is now available for purchase worldwide from the iTunes Music Store.
TRACKS:
UNFAITHFUL: A Gallagher delight! Served with generous embellishments of flute and sax. We've added 2 drum sets to double the flavor for a fuzzy finish! RealAudio sample
HIGH LIFE: Spicy T's mouth-drum sauce and freakish Pfaff loops combine to make the dish sizzle....and yes, that's wah-wah sax you're tasting. RealAudio sample
VITAMIN U: First, Jimmy soaked his bass in a very special Japanese box. Then we let Strawberry get out the gut bucket. Sprinkled with toasted vocals....and it's good for you, too! RealAudio sample
AWAY DELILAH: A dreamy concoction from Chef Julius Collins III...it must have been inspired by angels! Barbarella's chordal flavors are so smoky you can almost hear the vinyl crackle. RealAudio sample
URBAN HERBALIST: We stewed the whole thing in our special Urban Herbal juice! If you like jazzy seasonings, then you'll know why they shout "YEAH" at every chorus. RealAudio sample
MONEY: Our special green sauce...an absolute necessity for those on a tight budget. RealAudio sample
OLD SOUL CAFE: Barbarella insisted: strictly organic ingredients for this one. Spicy rhymes define Greazy Meal! RealAudio sample
I CAN'T WAIT: Hints of Strawberry make this one worth waiting for every time. RealAudio sample
THE BULLET: For the serious appetite, a heavy gumbo of the highest caliber. Bound to be making noize for years to come! RealAudio sample
ONE MAN'S DREAM:Kenny went to his 4 track stove and set out to make it a lovely day. We think he did right by us! RealAudio sample
GREAZY COLLAGE: So chunky you'll want to use a fork...but put your headphones on to get every greazy drop.
---

Download RealPlayer