---
News Updates
3/4/2016: Our hearts are breaking for the sudden loss of Brian Gallagher. It won't be the same without him.
10/23/15: Be sure to subscribe to our YouTube channel, and like our page on Facebook!
7/8/2014: Rehearsals have begun for our two shows coming up in the following week: A chill evening at the Icehouse on Thursday, 7/10 and then the Real Meal Deal at the Cabooze on Sunday, 7/13/14. You can get tickets for the Icehouse show here, and for the Cabooze shows here. We're looking forward to reconnecting with all of the OGMFs once again!
Be sure to check out the Greazy Meal Facebook Page to stay in touch with other GMF's and keep up to date on the latest Greazy doings.
3/27/06: "VISUALIZE WORLD GREAZE" (all albums really) now available for purchase worldwide from the iTunes Music Store!
9/25/05: PICTURES FROM THE FINE LINE SHOW can be seen HERE. We had a great two nights of shows; THANK YOU to everyone who came out! We're going to try to do this more often in the future.
9/22/05: Last night's storm blacked out sections of Maplewood, so the Jonny Lang show at the Myth nightclub has been moved to tonight. Since Jimmy is Jonny's bass player, the Greazy Jam at the Nomad World Pub will start a little later than originally planned; sometime after 10:00. There IS an opening act, however, so head on down and enjoy a beer or two. They've got a great selection on tap.
7/12/05: Greazy Meal has confirmed two nights of gigs at The Fine Line Music Cafe, September 23 & 24. More details as they become available, but I wanted everyone to have the word so they could start making plans. Whoo hoo!
1/11/05: morefunk.greazymeal.com is online. Enjoy the music!
1/10/05: media should be coming online just a little later today. morefunk.greazymeal.com is safely installed in its new happy home. Also, check out the live stream of old-skool greazy meal recordings: more old GM than you can listen to in a week possibly.
10/19/04: Added mp3 samples from Universe's Baby to the multimedia page.
10/16/04: Just announced -- Greazy Meal is playing two shows at the Cabooze, November 20-21st (Saturday/Sunday). Tickets are only $10, each night, and will go on sale soon.
We're looking forward to seeing Herr Anania from Parts East again.
9/10/04: Universe's Baby is now available online. BUY IT HERE!. (or click on the pic)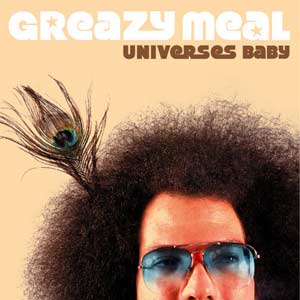 (opens in new window)
9/8/04: Pictures from the CD Release Weekend can be found HERE.
7/17/04: GREAZY MEAL SLEEPOVER/LOCK-IN at THE CABOOZE, August 27-29! Celebrating the release of our first new recording in four years, featuring all eight original members of the band. Tickets will be available soon. We're putting the finishing touches on our new album, which will be available at the gig.
3/30/04: last update to the studio photo gallery, and live pix of the 3/28 show
3/29/04: The show was a resounding success; now we all sleep (except for Dave, who has to get on a plane tomorrow morning).
3/26/04: More pics loaded into the gallery
3/25/04: added a few studio photos to the gallery
3/24/04: short photo album from the studio.
3/22/04: Greazy Meal is setting up in the studio to begin recording their 3rd studio album. Check out the webcams page.
3/19/04: You all know that GREAZY MEAL PLAYS THE CABOOZE on Sunday, March 28th, don't you? This will be a fundraiser to pay for a week of studio time, as they'll have spent a week in the studio recording a new album.
1/18/04: Lots more live mp3's on the multimedia page.
3/26/03: Thanks to a GMF in Nebraska, all of the old live MP3's have been restored to the multimedia page.
3/16/03: Pictures from Sunday night's show are here.
3/13/03: a humorous mp3 of our mid-show cell-phone appearance on the 3/9/03 KQ Homegrown show. How many times can we say "motherfucker" on the air? (Here's what it sounded like on our side....)
3/10/03: Pictures from Saturday night's (also amazing) show here. Good God y'all; what a fantastic weekend!
3/8/03:Pictures from Friday night's amazing show here. See you all tonight!
3/3/03: first rehearsal for the "Funk for Food" shows next weekend. Nice shot of the eight guys here. Also, a short clip of "Unfaithful" in rehearsal.
2/18/03:The Funkytown music video has been added to the Multimedia (formerly "Sounds") page.
2/9/03: a short Quicktime movie clip of loose booty, performed live at the Cabooze, has been added to the sounds page.
1/29/03: a whole live show now available from the sounds page.
1/28/03: The rumors are true! The complete story is here.
1/13/03: What's all the buzz? Tell us what you've been hearing on the new bulletin board!
1/8/03: I've uncovered another box of Visualize World Greaze! Those of you on the lookout for it should run to the "order stuff" page now!
1/3/03: Could it be? I've found new software for a bulletin board that should be a little less spam-filled (and better organized) than what we were using before. Have a look at it here (will open in a new window).
12/27/02: Lots of sounds are back online, thanks to the high-speed server that StrawB found.
7/27/02: David Anania is touring with the Blue Man Group as part of Moby's "Area 2" tour. Be sure to look for the blue, bald percussionist. Wait, they're all blue and bald. Never mind. See www.blueman.com for more information.
7/8/02: Tired of doing nothing but deleting "Lolita" SPAM, I've taken down the message board. Nothing's been deleted -- just chmodded everything so nobody can get to it, and removed the link. Have any questions for me or anyone else in the band about what's available, what's up, etc? Check out the "contact us" link at the left. Wondering whether CD's are still available? Check out the corresponding CD titles on the menu at the left. (save you a click: I don't currently know of any available copies of "Visualize World Greaze")
6/15/02: Tired of seeing all the old, dead links, I've moved everything over to the archived news page. If anything new ever happens, I'll post it here. --JRob